If you treat an individual as he is, he will stay as he is, but if you treat him as if he were what he ought to be and could be, he will become what he ought to be and could be.

– Johann Wolfgang Von Goethe
Book a free introductory session below 👇.
I believe everyone is capable of flourishing, and I want to help you get there. My coaching practice is centered on helping you solve more of the problems in your life, increase your sense of agency, and find fulfillment.
Some of the things I've helped clients with in the past: managing time, prioritizing between different life commitments, planning life and career transitions, building more connection with others, and improving habits. I can help with any stage of the behavior change process: from trying to figure out what and whether you want to change, to brainstorming how you might get there, to helping you come up with a concrete plan and being your accountability partner.
My approach to coaching is non-directive: rather than telling you what to do, my goal is to be an empathetic and curious listener, to help you figure out the best answer for yourself.
You can book a free introductory session with the form below, or read testimonials from past clients.
More about me
I've spent a lot of time thinking about how to be more effective, how to have a clear understanding of myself, and how to relate better to others. A few more details about my background:
I'm trained in Motivational Interviewing, taught by Dr. Tucker Peck. Motivational Interviewing is a coaching technique for helping people with behavior change.
I graduated with bachelor's and master's degrees in computer science, with a minor in math, and spent a few years as a software engineer at a tech company in NYC. I led a few technical projects and was also involved in team-building and internal events.
I've spent a few years doing writing and independent learning in neuroscience, psychology, psychotherapy, meditation, philosophy, and pure math, among other topics. You can see more about my learnings in my blog archive or my Substack.
I have 5+ years of meditation experience, in a variety of practices (concentration/Jhana practice, vipassana, non-dual awareness, among others), including a 10-day silent retreat and several daylong retreats.
I've hosted a number of salons and gatherings to build social connection, with 200+ attendees across 35+ events, both virtually and in NYC.
In addition to whatever problems you'd most like to work on, I'm happy to share my experience in specific domains like meditation, software engineering, community-building, writing, balancing a full-time job with other interests, and more.
Note: my coaching work is distinct from therapy. We'll take a pragmatic-first approach: trying to solve problems by understanding your underlying motivations and working creatively to bring motivations and outcomes into alignment. While long-term I'm planning on becoming a licensed therapist as well, if you want to do the deeper work of untangling emotional knots and traumas now, I can point you to resources that are better suited for that.
Testimonials
"Working with Kasra has been transformational for my struggles with scheduling, prioritizing, time management, and letting myself off the hook when I make mistakes. Kasra's warm, calming presence and his ability to reframe my struggles in a constructive way always leaves me feeling grounded amidst the chaos. He has an uncanny ability to help me clarify next steps when things feel muddled. The mud seems to settle in my mind after a session with Kasra, and I'm left with a clear understanding of how I want to move forward."

– HN, PhD Candidate and Director of Training Programs
"Kasra's coaching sessions really helped me brainstorm actionable strategies to help me achieve my goals that I was unable to see on my own. I've recently put them into practice and really happy with where that's taken me!"

– AB, Product Manager & entrepreneur
"Kasra heard the challenges I was describing and helped me understand them better. I appreciated how he validated my feelings that I'm experiencing difficult/challenging issues."

– RB, Building Science Engineer
"I asked Kasra for coaching right after I left my job to pursue a startup. He not only helped me move past decision paralysis re: a funding opportunity, but also worked with me on personal 1- and 10-year visions. My favorite part is his soothing voice!"

– TY, Product Manager & entrepreneur
"Kasra's coaching session helped me work through some anxieties and insecurities I was facing around my future. He helped me clarify a better perspective to view my life via gentle questioning and brainstorming. This was super helpful and I have now embarked on the next chapter of my career thanks to Kasra's help!"

– CL, Consultant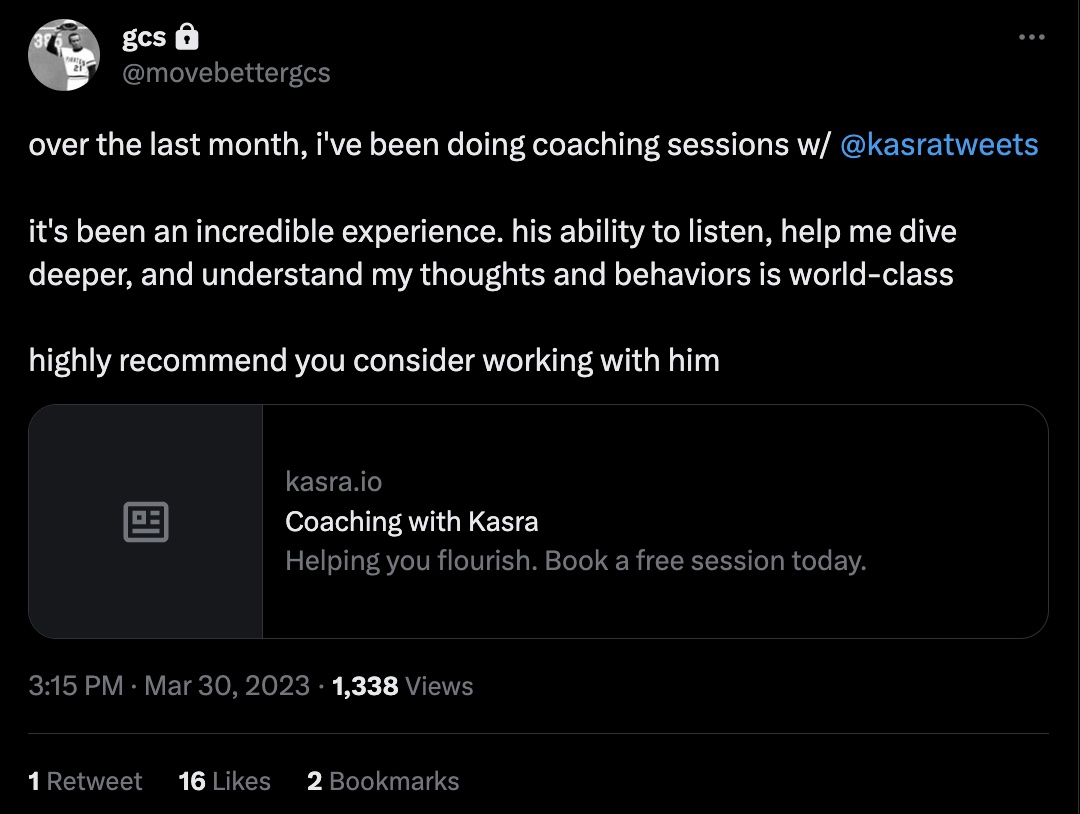 Interested?
You can book a free introductory session by filling in the form below. (If you don't see it in your browser, you can navigate to this page.)